The Strays united
The Strays united
Away from the peoples' sight hiding under a broken rusty car… Those gloomy eyes… Fearful and parched in the scorching summer, after engulfing tiny bits of food scrapes…. the furry creature waited and waited for a miracle.
Waiting for some absolution to happen… Asking for nothing more than a breath of fresh air to put some form of relief to the miserable sufferings.
A cold breeze… A drop of rain, just enough food to satisfy the hunger of one time… Nothing more, the pure innocent soul, could dare to ask.
Weeks and days passing by and no Ray of hope has found its way near the poor distorted soul…
A charitable meal from a surrounding human, a colony of Strays welcoming him in the pack, just so he can also have a sense of belonging…
Or only a friendly smile from just anybody around…
The search for food usually takes place when the hustle and bustle start subsiding and darkness signals the safety mode.
It was still a long time to go out hunting and the stomach was making churning noises.
The helpless eyes again watching from under the junk skeleton of the car if some nearby snack is in sight…
Suddenly…
There was a ruffling sound from behind. Seems somebody is trying to intrude into his space of solitude… Panic kicked in… Alarmed and ready to attack…
Something familiar starts emerging from one corner… A furry creature… Seemingly pulling on something… Something smelling good… Like food…
Curiosity takes over the fear and he started waiting for the other fellow being to fully emerge…. A cat.
A white furry cat… Their gaze met, those sad eyes telling the story of the trauma it has seen n felt, asking a stranger for some relief and place to take shelter in his humble abode …
While both remained frozen… In shock, in fear…. judging the other's stance both stayed waiting…
Then the smell of food broke the gaze and a friendly whine from the dog brought the cat into reality… Nervous and insecure the cat started engulfing and chomping on the huge piece of meat she had probably stolen from somewhere.
The poor dog asking for a tiny share for his growling stomach. Just waited… Patiently. Finally, after feasting on half of the food item the cat felt full and as a thankful gesture walked away from the meat to the other corner offering the food to the now excited dog, who hurried towards the leftovers.
The cat relaxed against the deflated tire and started cleaning n bathing itself while the hungry dog hastily eating away a good meal after a long, long time.
The mutual understanding and regard for each other were beaming through their eyes. The dog finished up the meal, did a long stretch, and a bit unsure of what he was about to do…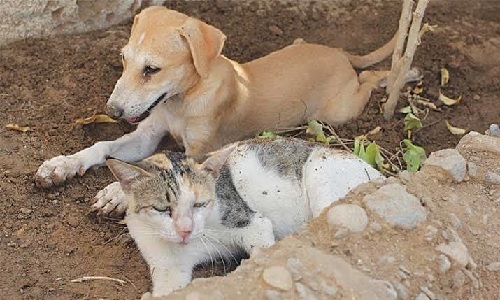 Walked closer to the cat and laid down near her… The cat paused for a moment from her grooming session…. and then continued again
Now there was no loneliness that evening to be found, under that shabby old car. The light of a beautiful friendship was hovering over them and they found a savior within each other.
That night the two souls had a relaxing sound sleep, ready to conquer the world around the next day, together…

By Nayyer Sabir